Welcome to IdealSound:Mobile
We offer mobile installation service in Calgary & surrounding areas!
We've been busy with our client's needs and haven't been able to update our website in a while - but remote starter season is here for 2019, so it's time we update our site and our pricing
This year we are excited to offer the new X1R-LTE Drone Module which can now be purchased with 1 to 3 years service included! This allows us to save you a little more on your initial subscription.
Check out our Black Friday Sale!!
Upto 40% off Drone Plans & More, see below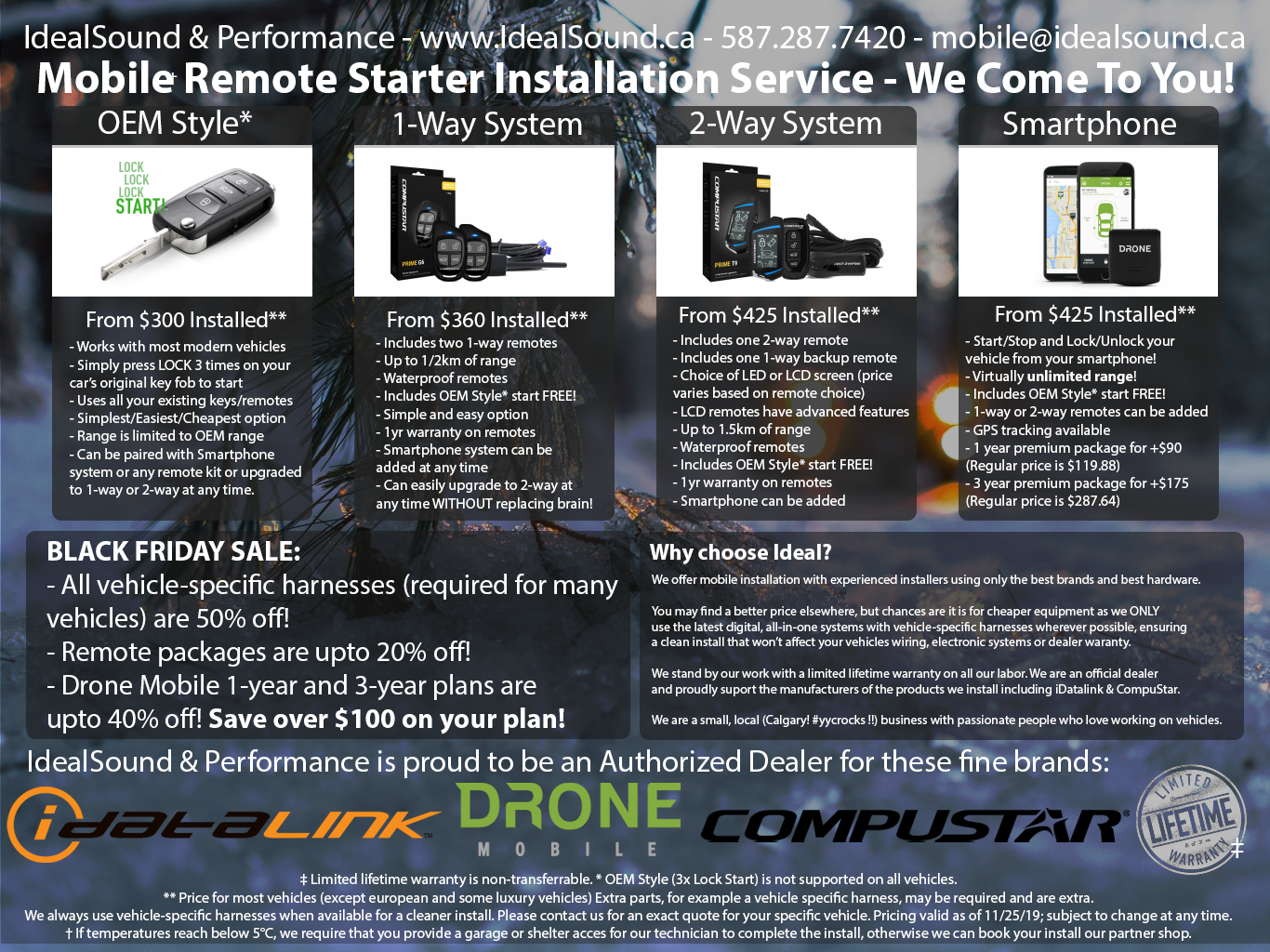 We are currently working on updating our website, in the meantime if you have any needs, please send us a quote request or text or call us!
So, we tried to launch an online store and we were not satisfied with the quality of the system we chose to use, we wanted better for our customers. A new system will be coming soon!
Please Note: Our website is still undergoing heavy development and will be updated often, so please check back.
We are Canada's Newest Online Store for Custom Car Audio, Entertainment, Security and Remote Starters, Truck Modifications, Vehicle Customization and more!
We are also Calgary's Premiere Mobile Technology installers and beginning to manufacture niche tuning/automotive products.
For those looking for our online radio channels, iDS001: Frozen Beats, iDS002: VinylSlut, iDS003: Urban Drop, they will return soon! (And in a very interesting way)
Shop Online
We are working hard on rebuilding our online store to provide you with the best possible experience. Please check back soon!
Some brands we'll be stocking include ADS/iDatalink/iDataStart, Mid-City Engineering, Automate, Compustar, Autostart, Xpresskit, Fortin, Parrot, Crux, SmartLogic, Stryker, BassWorx, Metra, Best Kits, Scoshe, PAC, Fusion, Wet Sounds, Auto-I, BlackBox, Blackline GPS, Passtime, Drone, Escort, SiriusXM, Spal, Rostra Precision Controls, RoadWire, Match, Pioneer, Alpine, Hertz and MUCH more!
Our Hours
We're generally available for appointments 7 days a week preferably between 12pm and 8pm though we can arrange to meet you outside these times if your schedule requires. As we try to provide service on all days of the week, we do occasionally close to give our staff a 'weekend' since we try to be available most Saturdays and Sundays.